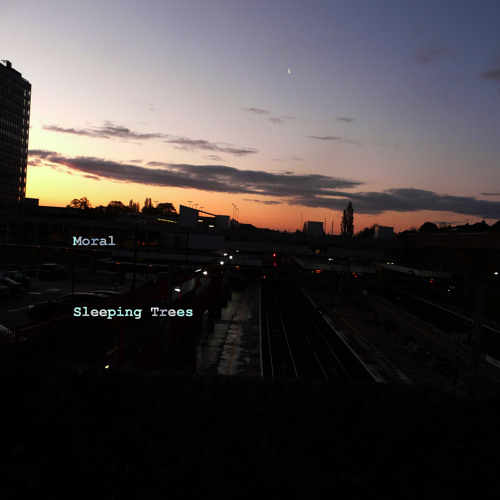 Anybody heard the new Maps record? I have too, unfortunately. And I'm not by any means trying to say it's an atrocious album because it isn't, just a disappointing one. Which in a strange way I think is even worse.
So Chapman has gone Crapman, but does that leave his hometown Northampton now incapable of ever producing an aurally gorgeous bedroom experimentalist again? Not necessarily.
This is where
Moral
comes into play. His 'Sleeping Trees' is hardly likely to receive a Mercury nomination any time in the foreseeable future however compared to 'Vicissitude' it absolutely blows it out the water. In fact I'd be inclined to compare it to a nuclear submarine if it weren't so utterly serene.
Eight songs for the price of none, Moral's half hour of ambient tenderness certainly makes placid listening. 'Burning' is one of my personal favourites - its spine-tingling vocal sample blending beautifully into the fluid productions with exactly the right amount of repetition. I can definitely imagine myself slipping away to it without a care in the world.
There's a wonderfully creative array of sparkles and shimmers coating the whole album and I love it. One that particularly caught my ear was the Jamie xx does chiptune six-and-a-half-minute whopper 'Medicate' (more loveliness came to follow but to be honest by that point I was far too relaxed and blissed out to bother taking note).
If truth be told though there are a few creases that haven't been ironed out quite as well as perhaps they could have been and some of the songs might want shaving a little shorter. Maybe two or three albums of Moral's best work would have been more effective than five records in only a year but then who am I to tell him how he should be releasing his material?
But now I'm just being pernickety. Overall 'Sleeping Trees' is a brilliant collection of atmospheric electronica that I've found I can unwind to with practically no quarrel whatsoever. Peace out.